SHEN Yi Elsie proudly presenting her video "The Neon God" at the Barcelona Art Contemporary 2011.
Barcelona's International Festival of Contemporary Art, or BAC!, incorporates various media, from murals to installations, contributed by galleries all over the world. The works are spread across several city venues but are united by the festival's yearly changing theme.
The theme for this year is "El Tiempo" ("Time").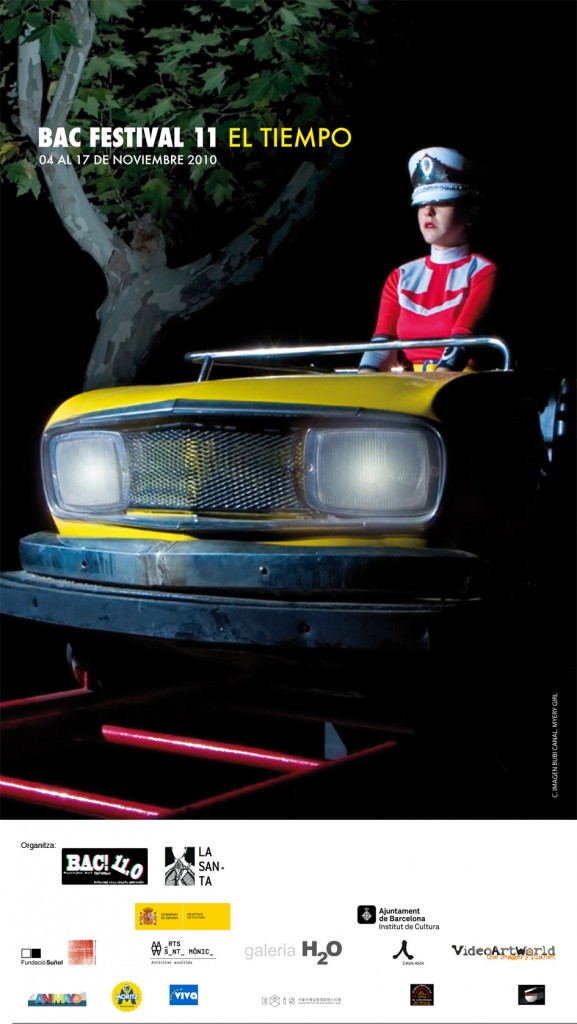 11.0 Edition of Barcelona Art Contemporary Festival
CASA ASIA, FUNDACIÓ SUÑOL, CENTRE D'ART SANTA MONICA & H20
[email protected]
http://www.bacfestival.com
WEDNESDAY – Nov. 10th : Centre d'Art Santa Mónica
5.30pm. Screening of selection :: TIME FOR A CHANGE :: [1 hour 6 minutes]
Curated by Macu Morán (Director of VideoArtWorld)
– REVISITING WINKIE'S ON SUNSET BLVD: Daniel Hoflund – Sweden, 2008, 2'55"
– ACTIVISM: Beatriz Albuquerque – Portugal, 2007, 5'00"
– MEMORIA RAN: Damian A. Pissarra – Argentina, 2010, 2'27"
– AIM: Benna, Italy, 2008, 4'50"
– VS TRIBAL TREATIES 1785-1894: Flounder Lee – USA, 2007-2010, 2'00"
– EXCERPT: Guli Silberstein – Israel, 2008, 4'35"
– AT HER AGE: Heide Hatry – Germany, 2010, 6'00"
– CULTURE: Avelino Sala – Spain, 2088, 2'05"
– SE REVELA, SE DEVELA: Elia Alba – Dominican Republic-USA, 2007, 1'00"
– TIEMPO DE RESPUESTA: Verena Grimm – Mexico, 2007-2010, 6'00"
– NEON GOD: Elsie Shen Yi – China, 2008-2009, 2'36"
– AS IF TO NOTHING: Andreas Templin – Germany, 2008, 3'45"
– A LITTLE PIG GOES A LONG WAY: Rajorshi Ghosh – India, 2007, 45"
– JE SUIS PERE ET MON PERE EST PERE: Andres Weberg – Sweeden, 2010, 2'18"
– NICKNAMES: Gustavo Marrone – Argentina, 2009, 6'00"
– CORPORATE ARMIES: PSMJ – Spain, 2008, 2'44"
– INTERVIEW WITH THE COUNCIL: Arfus Greenwood – USA, 2009, 4'00"
– REPRESENTA CORISCO 2010: Vj Electroiman – Brazil, 2010, 2'46"
– MACROCARICIAS: Begoña Egurbide – Spain, 2007, 4'30"
XI EDITION: BARCELONA ART CONTEMPORARY FESTIVAL
BAC! 11.0 – Entering the 4th Dimension: TIME » Read the rest of this entry «