Outsourcing as an imitation of life
AMNUA INTERNATIONAL PROJECT-IN | OUT SOURCE opening commences December 10th and closes January 20th, 2015, in AMNUA
As one of the fastest growing contemporary art museums in China, Art Museum of Nanjing University of the Arts (AMNUA) proudly presents International Project – In|Outsource. It consists of twenty-two international artists with over 150 pieces art-works/productions.
The exhibition premise can be interpreted as many forms of "outsourcing" selected artists make connections with cause and effects of outsourcing – directing perceptions from "out" source and reflects back inward toward the original source (humanity), aimed to the core of desire asking two simple questions: are we extensions of our own goods and services, and collectively, are we outsourcing our everyday lives unbeknownst to ourselves?
The international project appeals to viewers in hopes that they might consider their relationship to opulence, with sincerity.
AMNUA INTERNATIONAL PROJECT-IN | OUT SOURCE
10/12/2014-20/01/2015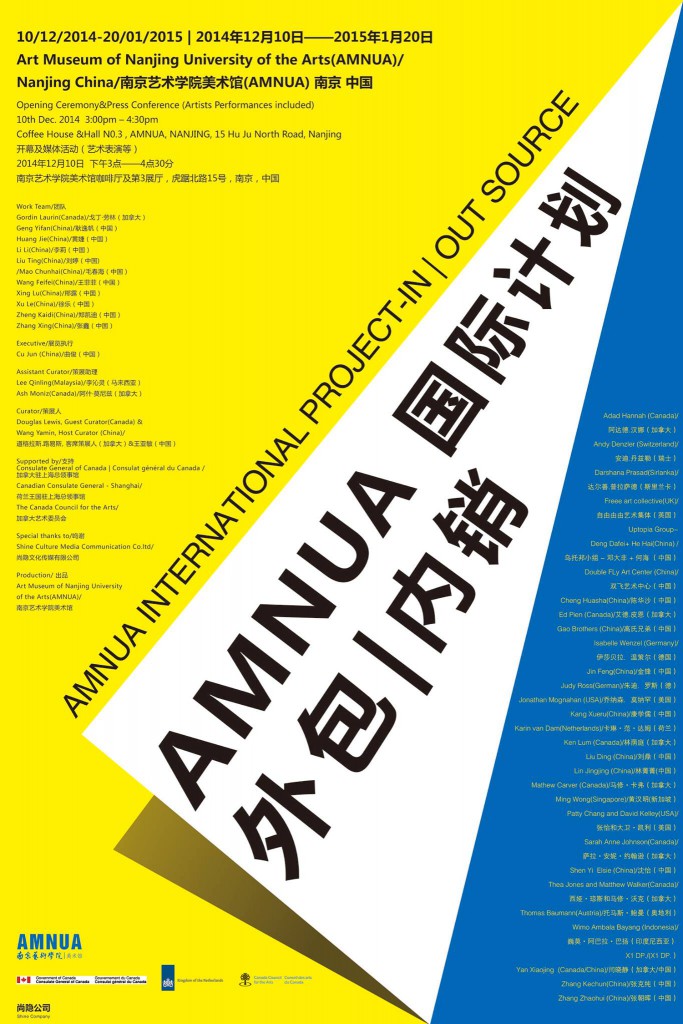 s(AMNUA), Nanjing, China
Opening Ceremony & Press Conference (Artists Performances included)
10th Dec. 2014 3:00pm – 4:30pm
Coffee House &Hall N0.3, AMNUA, NANJING, 15 Hu Ju North Road, Nanjing