Date: 24/05/2012 – 03/09/2012
Opening: Thursday, May 24th 7-9pm
Participating artists: Sara Angelucci and Han Xu, John Armstrong and Paul Collins, Cathy Busby, Gang Chen, Brendan Fernandes, Nan Hao, Ming Hon, Knowles Eddy Knowles, Laiwan, Minjeong Oh, Ed Pien, Shen Yi Elsie, Laurens Tan, Xiaojing Yan, and Zhang Zhaohui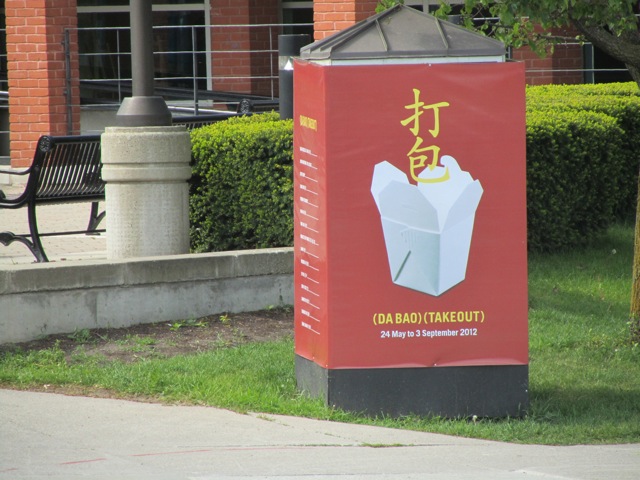 (Da bao)(Takeout) is an attempt to locate a cross-cultural and social dynamic between China and the West, specifically Canada, by focusing on artists who investigate, adapt and instill ideas from abroad into their practices, while appreciating the unavoidable slippages that occur in the transference of ideas from one ethnicity to another. The selected artists explore ironic, metaphoric, humorous and even cynical perspectives on the import and export of people, cultures and ideas.
Culture in general, can be regarded as a system of delivering ideas from one of group of people to another. In this way, (Da bao)(Takeout) addresses the metaphorical concept of delivery and interpretation of cultural identity. Artworks from both countries challenge and play with the different cultural conventions and restrictions that exist between East and West.
The seventeen artists in this exhibition are a mix of second-generation or third-generation Chinese-Canadians, Chinese who have travelled abroad to study art, and Canadians who have travelled to China for residencies or exhibitions. They share the experience of being "taken out" of familiar contexts and encountering a strikingly different culture. While their individual voices each occupy a unique position, collectively, they speak to issues of cultural transference, highlighting the gaps, distances and misunderstandings inherent in communication across cultural divides.
Varley Art Gallery
216 Main St.
Unionville, ON
Canada