文/言由 text by Yan You
上周六与摄影师沈怡约在798的东八时区书店见面。在美国学习多年,而后又旅居法国多年的她谈到摄影和新媒体时,其观念与我这些年来的摄影审美颇为不同,但却让我深受启发。摄影发展到现在,除了记录之外,真的有着无限的可能性。与文字带给人相对笃定的信息相比,摄影有其不确定性,她另外谈到"过期的风景"系列中一张有着铁丝网的作品(上图)说,欧洲人马上想起了奥斯威辛集中营,而中国人却想到了恬淡的乡村生活。这种因不同文化背景、不同生活经验造成的阅读歧义让她十分迷恋。再拿她的"蜜月旅行"系列来说,乍看以为是她记录自己的一段美好时光,但听她一说,原来这是一个类似于"梦境"的虚构故事,所有的良辰美景都来自于她的猜测或想象,是她将多年的照片像电影中的镜头一般剪辑在一起的故事。我想,这是『故事』栏目中刊载的最像故事的"故事"。
Photographer Shen Yi Elsie graduated from Illinois Wesleyan University in 1996, and spent one more year in Chicago Columbia College till 1997. Then she went to France for several years. She now works and lives in Beijing. Her experience outside China for so many years makes her quite different in the idea on photography. So I invited her to talk about her Honey Moon series. Recording not her own experience, as I thought before, this series is from her imagination about a beautiful time. I think this is the most fictional story since the STORY column.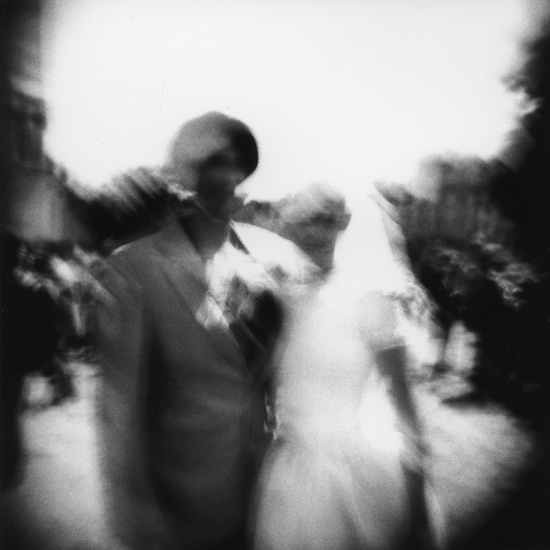 有一天,路过巴黎圣母院门口,有一对新人正在举行结婚庆典,这对显然是来自意大利或是西班牙的新人,着装略为复古,新郎看到我胸前的相机,于是一定要我给他们照张相。我欣然同意,照完后,他飞跃上来想看看照片,发现我的相机是个塑料的玩具相机,不免有些失望。这就是这个系列的第一张照片。
照片洗出来后,不知为什么,我常拿出来看,总觉得他们有什么故事要讲。我想像他们如何畅游巴黎,如何继续自己的生活。蜜月旅行是我想像中的这对新人或任何一对新人的一次旅行,一次有点类似大卫・林奇电影中的旅行。每个人都有自己希望的蜜月旅行,如果让我选,蜜月该是一次去到世界尽头的旅行。 所以,这个系列是完全虚构的。其实,这个虚构的旅行也似乎是虚构的。或许只是一个梦。
但它是一个永远真实的梦,比如其中有一张是雪地里的"2006.5" 这么几个字,应该是2006年5月的意思,是一种见证。这几个雪地里的字不是我写的,有人写了这么几个字,写这几个字的人一定是寻求对某件事情的见证。或许就是对另一对恋人的爱情的见证,我拍了下来,用在我的故事里,或许是虚构的。但它作为"见证"是再真实不过了。
每个观者通过他/她自己的经历也会对这些图片做出不同的反应。我更希望知道,观者是怎么想的。比如最后一张,有的人告诉我,是看到了曾经爱过的人,孤身一人。有的人说,那是感情中的孤独。也有的人说,那是他/她离开人世时,他/她爱的人孤身一人。
每个人梦醒之后,总想知道,刚才那个梦是什么意思,到处问别人。其实,这组照片就是一个梦,我就是那个做梦的人。
One day when I passed Notre Dame de Paris, there was a wedding ceremony. The couple, in a little vintage, is obviously from Italy or Spain. The groom, seeing my camera on my chest, asked me to take a photo for them. I agreed heartily. After that he lept up to see the photo, and felt a little disappointed to find that my camera is a plastic toy one.

After the photo coming out, I always took out to see it and found that they had some stories to tell. I imagined how they wandered Paris and how they continued their life. Honeymoon trip is, in my imagination, a trip of this couple or any couple, a trip like those in David Lynch's films. Everyone has a honeymoon trip in his mind. For me, in the honeymoon we shall go to the end of the world. So this series is completely imaginary. Actually this fictional trip seems imaginary too. Maybe it's just a dream.
However, it is a dream true forever. For example, in a photo there was "2006.5″ on the snow, meaning May 2006. It was a witness. These words were not by me. The person writing these words were seeking a witness to some thing. Perhaps it witnessed the love of another couple. I put it in my fictional story. But, as a witness, it couldn't be truer.
Each viewer will react diffferently with his/her experience. What I want to know is, how these viewers think. For example, about the last picture, some one saw the person he loved alone; some one said it was loneliness in affection; some other one said it was his/her lonely lover when he/she left the world.
Everyone wants to know what the dream means when he wakes up, so he asks others around. The series is a dream, and I am the dreamer.
《假杂志》是一本年轻的关注国内外摄影艺术的新兴杂志。《Fake》magazine is a young digital magazine which pays attention to photography works from both China and Internationally.
full text: http://blog.jiazazhi.com/2011/04/story-6-shen-yi/
full works: http://shen.studio/works/honey-moon