SHEN Yi Elsie proudly presenting her video "The Neon God" at the Barcelona Art Contemporary 2011.
Barcelona's International Festival of Contemporary Art, or BAC!, incorporates various media, from murals to installations, contributed by galleries all over the world. The works are spread across several city venues but are united by the festival's yearly changing theme.
The theme for this year is "El Tiempo" ("Time").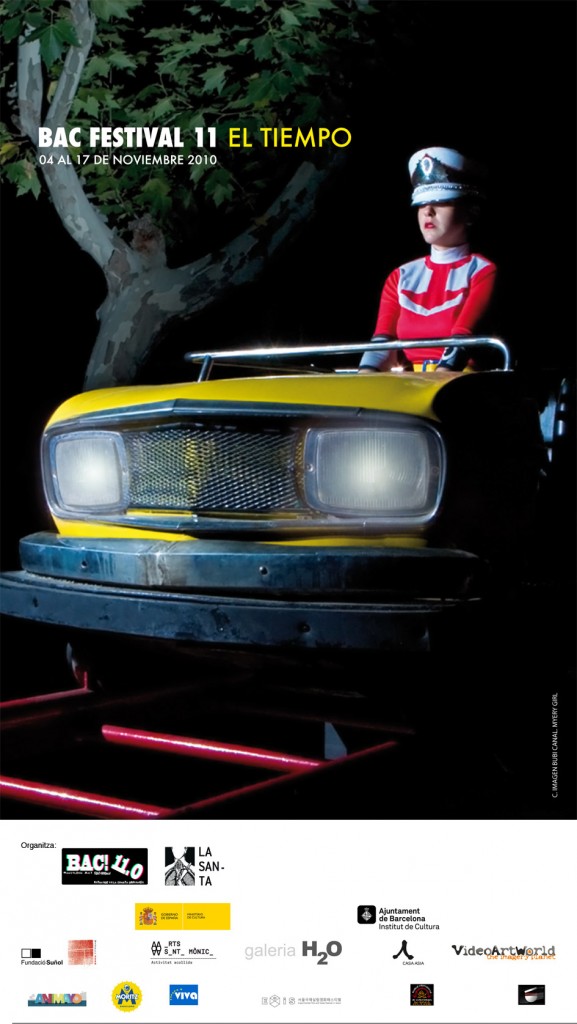 11.0 Edition of Barcelona Art Contemporary Festival
CASA ASIA, FUNDACIÓ SUÑOL, CENTRE D'ART SANTA MONICA & H20
[email protected]
http://www.bacfestival.com
WEDNESDAY – Nov. 10th : Centre d'Art Santa Mónica
5.30pm. Screening of selection :: TIME FOR A CHANGE :: [1 hour 6 minutes]
Curated by Macu Morán (Director of VideoArtWorld)
– REVISITING WINKIE'S ON SUNSET BLVD: Daniel Hoflund – Sweden, 2008, 2'55"
– ACTIVISM: Beatriz Albuquerque – Portugal, 2007, 5'00"
– MEMORIA RAN: Damian A. Pissarra – Argentina, 2010, 2'27"
– AIM: Benna, Italy, 2008, 4'50"
– VS TRIBAL TREATIES 1785-1894: Flounder Lee – USA, 2007-2010, 2'00"
– EXCERPT: Guli Silberstein – Israel, 2008, 4'35"
– AT HER AGE: Heide Hatry – Germany, 2010, 6'00"
– CULTURE: Avelino Sala – Spain, 2088, 2'05"
– SE REVELA, SE DEVELA: Elia Alba – Dominican Republic-USA, 2007, 1'00"
– TIEMPO DE RESPUESTA: Verena Grimm – Mexico, 2007-2010, 6'00"
– NEON GOD: Elsie Shen Yi – China, 2008-2009, 2'36"
– AS IF TO NOTHING: Andreas Templin – Germany, 2008, 3'45"
– A LITTLE PIG GOES A LONG WAY: Rajorshi Ghosh – India, 2007, 45"
– JE SUIS PERE ET MON PERE EST PERE: Andres Weberg – Sweeden, 2010, 2'18"
– NICKNAMES: Gustavo Marrone – Argentina, 2009, 6'00"
– CORPORATE ARMIES: PSMJ – Spain, 2008, 2'44"
– INTERVIEW WITH THE COUNCIL: Arfus Greenwood – USA, 2009, 4'00"
– REPRESENTA CORISCO 2010: Vj Electroiman – Brazil, 2010, 2'46"
– MACROCARICIAS: Begoña Egurbide – Spain, 2007, 4'30"
XI EDITION: BARCELONA ART CONTEMPORARY FESTIVAL
BAC! 11.0 – Entering the 4th Dimension: TIME

"Time is the moving image of eternity"
Platón
After completing its first decade, the change that the Barcelona Art Contemporary Festival had been predicting has arrived. An innovative change, as perceptible as it is intangible, BAC! Enters the 4th dimension: TIME. In a period in which different artistic, scientific, philosophical and technological disciplines interact freely, finding, creating and dissociating as part of an uncontrollable ritual dance, TIME is introduced as a brush that captivates an increasing number of art lovers, both emissaries and receivers.
TIME, divine mystery and mortal fear par excellence, becomes an active part in the world of perceptions, multiplying the artistic experience through incalculable visual impacts which choreograph a lasting sensation. Audiovisuals enter  the artistic sphere with a sweeping momentum. Gone are its difficult beginnings, when a few pioneers knocked themselves out creating a vanguard of moving images that was hardly taken into account.
Only after this ordeal, a collective consciousness arises, having digested this evolution and, not even the most conservative can any longer contain  the overwhelming expansion of one of the most contemporary means of expression. A means which is not only able to sublimate all the senses, but also adds a dimension of vital importance that demands our attention: TIME. Professional artists and enthusiastic amateurs investigate this new set of brushes and paints, relying on technology without prejudice and bravely accepting today's challenges.
The latest BAC! presents the special relationship of art with the space-time binomial, promoting the infinite, simultaneously occurring combinations of the multidimensional nature of such work : Time-based Art.
A complexity that is expressed in the human experience as such, and through the interaction of all these forces creates the ethereal dimension, TIME. With the visitors' interaction and their own space and time, the show will provide the approach to the binomial with infinite permutations. The fourth dimension is defined as a simultaneous, massive, metaphorical, and deeply intertwined with life experience. It is a dimension that contains movement, the object of numerous art historical investigations  and the axis of art movements and disciplines as important as cubism, futurism, kinetic art, comics, film and, of course, video art.
Within this historic and universal fascination with exploring the space-time continuum, BAC! takes revisits the invited country context,  presented in previous editions. JAPAN will be the guest country in this next edition, selected for its innovative artistic proposals and researches.
Within this framework, BAC! Begins the new decade inviting us to explore notions of space and time using today's most advanced artistic technologies, allowing to discover virtuous talents working with the genres that intrinsically employ TIME in the palette. With the support of specialists from the different forms of that audiovisual creativity takes nowadays, BAC! will take the plunge of overviewing them under an artistic approach.
Respecting the broadly open conceptual line that characterizes BAC!'s previous editions, this year, the proposal is even more emphatic, with a quest to reflect together on the different ways in which the time dimension itself affects human existence.
Time does not stop or repeat itself, it is intrinsically linked to change. Welcome to the art of the fourth dimension.
Macu Morán
Chief Curator