摄影的寄居蟹
文:顾振清
寄居蟹,甲壳纲,十足目,外形介于虾和蟹之间,属于甲壳类中异尾类的节肢动物。为了避难与自我保护,它寄居在空螺壳或一些中空的物体内。对寄居蟹而言,寄居其实是一种另类的蜗居行为,甚至是一种隐居态度。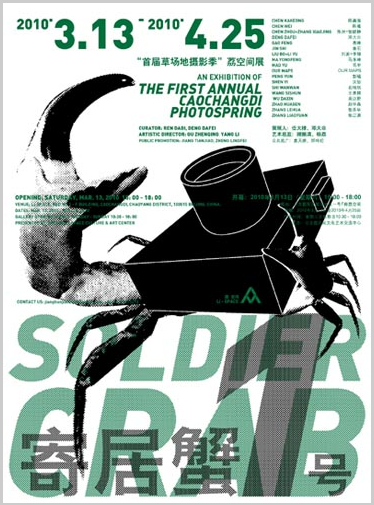 寄居蟹又被称为"白住房"。它的鼎鼎大名来自一些霸道的摸样,它挥舞大螯、小螯,似乎会吃掉海螺等软体动物的肉,再把人家的外壳占为己有而得来。其实,寄居蟹只是个具有环保概念的资源回收者,住的是贝类死后所遗留下的空壳。贝壳是海洋贝类生物与生俱来的硬基质良好的"经济适用房"。贝类死后,贝壳就成了遗弃之物。寄居蟹见到空壳,只是清扫一番便废物利用,把贝壳当作形影不离、难以割舍的家园。它从此背负着这个家园到处谋生。
寄居蟹是一种符号。对摄影而言,它具有比附的寓义。
摄影术原本是工业革命兴起之后发明家们兑现其发明激情的一个遗留之物、一个空壳,但是早期摄影师和一些艺术家心无芥蒂地寄居到里面。他们借助一种新兴的技术,催生了一门新兴的摄影艺术。相机和摄影术,虽然不是人们与生俱来的外壳。但是不少人一旦邂逅了相机和摄影术,就当作形影不离、难以割舍的精神家园。这莫非是一种寄居蟹式的社会文化行为?
对很多当代艺术家而言,摄影也是一间"白住房",不住白不住。他们玩摄影,主要是出于一种进取心,而不是为了避难与自我保护。艺术家住进了摄影这个"蜗居",也就多了一个工具,磨砺自我的洞察力和想象力;同时也多了一件盾牌,捍卫自我在艺术边界上突破和超越的权利。有的人进得去,出得来。有的人进去了,出不来。摄影也就是一个外壳,可以成就一种生活方式。其实,它是一个极具包容性的躯壳,可以寄托和孕育艺术家的私人情感和主观思想。艺术家加载摄影这一媒介,就得接受或挑战摄影的游戏规则,其情感和思想就得或多或少地"寄居"在摄影图片所呈现的事物、符号和观念之中。艺术家可以就此加封为摄影家,背负上相机、摄影术及后期加工成像术所构成的坚硬的、并不轻松的外壳。
定格时间和空间形成了艺术家对摄影纪实本质的一种理解。但是,摄影术一旦深入到他们的价值系统、成为实现理想诉求的手段,摄影观念也就真的变身为他们一种外壳、一种家园。摄影作为一种被侵占的领域,被艺术家和政治艺术家极端的生活方式所附体,或是另存为另一个版本的时候,它呈现的可能性还有哪些?
当今的拍客一族无疑是艺术家、摄影家身份的一种稀释和泛化。他们把相机像手机那样常年揣在衣袋里,与自我身体捆绑。他们走到哪里,兴之所至就掏出来摁动快门。影像泛滥、读图时代等概念,在一定程度上,来自拍客一族在网上、纸本上不揣简陋地暴晒自己摄影经验,继而引发全球围观、传阅的社会文化行为。盲目的看与被看,这种潜藏在相机和摄影术之中的人类的集体无意识,就是一种根深蒂固的人性。
摄影成就的图像,其实早就"寄居"在机械复制和图像篡改技术的外壳之中,构成种种视觉欺骗。摄影构成了与现实、现实主体平行存在的一个虚拟世界。有时,现实流逝了,现实主体消亡了,其影像却留下来,成为后人怀旧并雕刻时光的素材。
《寄居蟹1号》"首届草场地摄影季"荔空间展
开幕:2010年3月13日(星期六)15: 00 – 18: 00
展地:北京朝阳区草场地红一号F座荔空间
展期:2010年3月13日至2010年4月25日
开放时间:星期二至星期日10: 30 – 18: 00
主办:北京荔空间文化艺术交流中心
艺术家:陈嘉强、陈维、陈洲+张晓静、邓大非、高峰、金石、刘波+李郁、马永峰、毛宇、OUR MAPS、彭韫、沈怡、石玩玩、王思顺、吴达新、赵华森、张乐华、张辽源
策展人:任大棣、邓大非
艺术总监:顾振清、杨荔
公共推广:姜天娇、郑玲妃
联络:[email protected]; +86-10-51273272
SOLDIER CRAB Ⅰ
AN EXHIBITION OF THE FIRST ANNUAL CAOCHANGDI PHOTOSPRING
OPENING: SATURDAY, MAR. 13, 2010  15: 00 – 18: 00
VENUE: LI-SPACE, RED NO.1 – F BUILDING, CAOCHANGDI, CHAOYANG DISTRICT, 100015 BEIJING, CHINA.
DATES: MAR. 13, 2010 – APR. 25, 2010
GALLERY OPENING HOURS: TUESDAY – SUNDAY 10:30 – 18: 00
PRESENTED BY: BEIJING LI-SPACE CULTURE & ART CENTER
Soldier Crab of Photography
by Gu Zhenqing
Soldier crab, a crustacean of the order Decapoda, in a shape midway between shrimp and crab, is categorized as arthropod of anomura. In order to seek asylum and protect itself, soldier crabs make a living in empty shells or hollow objects. To them, living in shells of others' could be referred to as humble living in pigeonholes and could even be endowed with an attitude of seclusion.
Soldier crab's life habit makes it a tenant who pays no rent. This great reputation comes from its arbitrary look, with big claws waving around clamoring for swallowing the meat of mollusks and occupying the shells to themselves. Actually, soldier crab is merely an environment-friendly resource recovery worker who lives in the empty shells abandoned by dead Mollusks. Shells are good-quality "economical housing" inherent to shellfish and after their death, the shells become relics. When soldier crabs found the empty shells, they would simply tidy them up, then make good use of these wastes and turn them into their inseparable home to be carried wherever they go.
Soldier crab is a symbol and when referred to photography, it delivers a message of analogue.
Photography used to be one abandoned shell for scientists and inventors after the Industrial Revolution. However, it was found by some early photographers and artists who came live in these shells just like what soldier crabs do. These people have actually boosted up a burgeoning new art form of photography in virtue of a new technology. Cameras and photography, although not inherent to human beings, but once encountered, becomes an inseparable spiritual home to many.
To many contemporary artists, photography is considered as a zero-rent housing. It was out of enterprise that they choose photography as the art medium but not out of seeking self-protection. Once artists move in this pigeonhole, they are blessed with a tool to sharpen their insight and to broaden their imagination and at the same time, they get for themselves a shield, a shield that defends the rights of breaking through and surpassing the boundary of art. Some people go in and go out with ease while some go in but never get out. Photography is merely a shell, but it changes one's life style. An inclusive shell it actually is, which breeds private emotions of artists and their subjective thinking. When chose photography as the art medium, artists have to play by its rule and their emotions and thinking will be more or less expressed by the images and symbols that appeared in photos. By doing this, artists could be entitled photographers, and from now on they put on their shoulders a tough solid shell that is constituted by cameras, techniques and many professional procedures of making a photo that in all, made this shell not that easy to carry.
To stop time and to fix space became one way of approaching the essence of on-the-spot photography. However, when this chosen art medium really gets in the value system of artists and becomes their tool of reaching out for the ideal, the concept of photography turns for real to be the shell or rather home for artists. Photography, being an invaded domain by artists and possessed by their extreme life style, does it still have other possible way of presentation?
The new generation of shutterbugs nowadays is no doubt the diluted presence of artist and photographer. Camera to them is like cell phone to most of us, which is carried wherever they go whatever they do. Whenever the interest is aroused, they would simply pull out the camera and click. The came of the age of graphical information and the floods of images we see everyday everywhere are partly due to the socially cultural activity of these shutterbugs who enjoy exposing their works over all social media and arousing public interest. To see and be seen blindly, this collective unconsciousness hidden in the camera and photography reflects certain deep-rooted human nature.
The image produced by the medium of photography has long been sheltered in the shell of mechanic duplication and image perfection technology which could easily perpetrate visual cheating. Photography constitutes an artificial world that exists in parallel with reality and reality subject. Sometimes when reality goes by and reality subject dies away, the image of which stays along and becomes the elements that call up and sculpt old times.