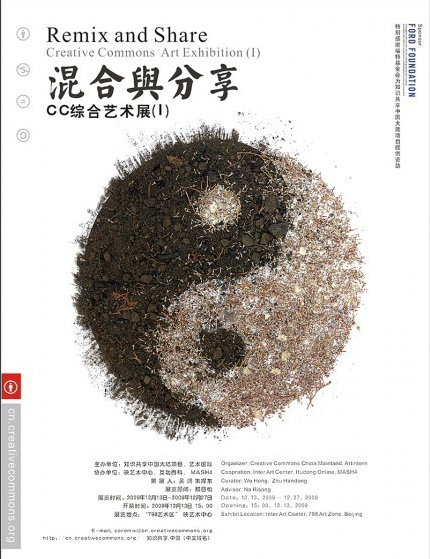 Co- Organizer: Creative Commons China Mainland,  Artintern
Coopration:Inter Art Center、Hudong Online、MASH4
Curator: Wu Hong, Zhu Handong
Advisor: Na Risong
Opening Ceremony: December 13, 2009 (Sunday) 15:00
Exhibition Duration: December 13, 2009 – December 27, 2009
Location: Inter Art Center, 798 Art Zone, Beijing
Co- Organized by Creative Commons China Mainland, and Artintern with additional support from Inter Art Center, Hongdong.com and mash4, the Remix and Share: CC Art Exhibition will be open on December 13, 2009 in Inter Art Center, 798 Art Zone, Beijing.
List of participating artists:
Videos:
Cao Fei, Cao Shu, Chen Hao and Li Xiaoyu, Chen Xuegang, Huang Ying, Lei Benben, Lin Fangsuo, Liu Wei, Liu Qiming, Shen Yi Elsie, Xia Shu
Devices and New media:
Chen Youtong, Chen Yun, Deng Zhongyun, Hai Yuan, He Xiaoquan, Huang Cheng, Xie Xiaobing, Lin Mo, Liu Xun, Liu Liguo, Ma Xiaoyu and Gao Ming, Wu Xiaojun, Yan Hang, Yan Jun, Yi Xuan, Yi Yan, Zhang Hao, Zhi Xin
Photography:
Chen Weiqun, Du Hanning, Feng Fangyu, Gao Yuan, Hu Zhengdong, Jiang Pengyi, Lin SHu, Lei Yang, Li Ming, Li Fang, Ma Kang, San Shui, Tian Taiquan, Wang Tiewei, Wang Tong, Yu Lei, Zhang Wei, Zhang Yin
Drawings:
Chen Lei, Jiang Peng, Liang Yue, Lin Guocheng, Liu Chang, Lu Ming, Ma Zhimin, Wu Yiqiang, Yang Wenping, Ye Qiang, Zang Kunkun, Zhang Jianjun, Zhang Lin
Venue: Inter Art Center, 798 Art Zone, Beijing
The CC licensed Artworks exhibition
received overwhelming response – more than 200 artists submitted their works during just a one month period. Submissions are in various forms including new media, device, video, easel painting, etc. Works presented in this exhibition are from more than 60 artists and are selected from hundreds submission. Some well-known Chinese artists including Cao Fei, Yao Dajun, Yan Jun, Wu Xiaojun, Liu Wei are also invited to present their CC licensed works at the exhibit.
The acceptance of CC licenses by artists illustrates that this flexible copyright option is gaining significant recognition in the field of contemporary art in China.  The licenses are optional, they facilitates the public to identify the author's attitude towards his/her work, and reduces procedures of unnecessary communications to improve distributions to be wider and faster. Its core value exists in encouraging the authors to voluntarily share his/her authoring with the public while completely understanding his/her rights, and contribute his/her work as a material of authoring by granting certain copyright to the public. This will improve the share and distribution in culture and art to a greater extent, and finally create a social atmosphere where people are sharing knowledge achievements of the others legally. The promotion of CC licenses will help the artists to re-evaluate his/her copyright and to respect the knowledge achievements of the others. More importantly, it will also spread the concept of share, cooperation and remix to further promote the creativity in artistic languages and artistic behaviours, exerting a profound influence on the art field.
In this occasion, we have specially invited a number of well known artists including Cao Fei, Yao Dajun, Yan Jun, Wu Xiaojun, Liu Wei to exhibit their works. This is the very first time for a large scale exhibition of CC-licensed art works in CCi (CC International) since the release of Creative Commons licenses 7 years before. On the opening day, project leads or representatives from CC International Asia-Pacific Region including Philippine, Korea, Taiwan and Hong Kong, will come to convene a forum under the theme of this exhibition with participating artists.
Contact information for consulting and media inquiries:
Mr. Zhu Handong, Mobile: 13601136018; Ms. He Xiaolin, Mobile 13466687857
E-mail:[email protected]
Website: http://cn.creativecommons.org/   知识共享.中国 (Chinese Domain)